New Jersey Veterinary Hospital
Managers Association
Event Schedule
---
March 2020 Meeting : Due to COVID-19 outbreak our Spring meeting has been cancelled. We will be scheduling this meeting at a new date and time to be determined.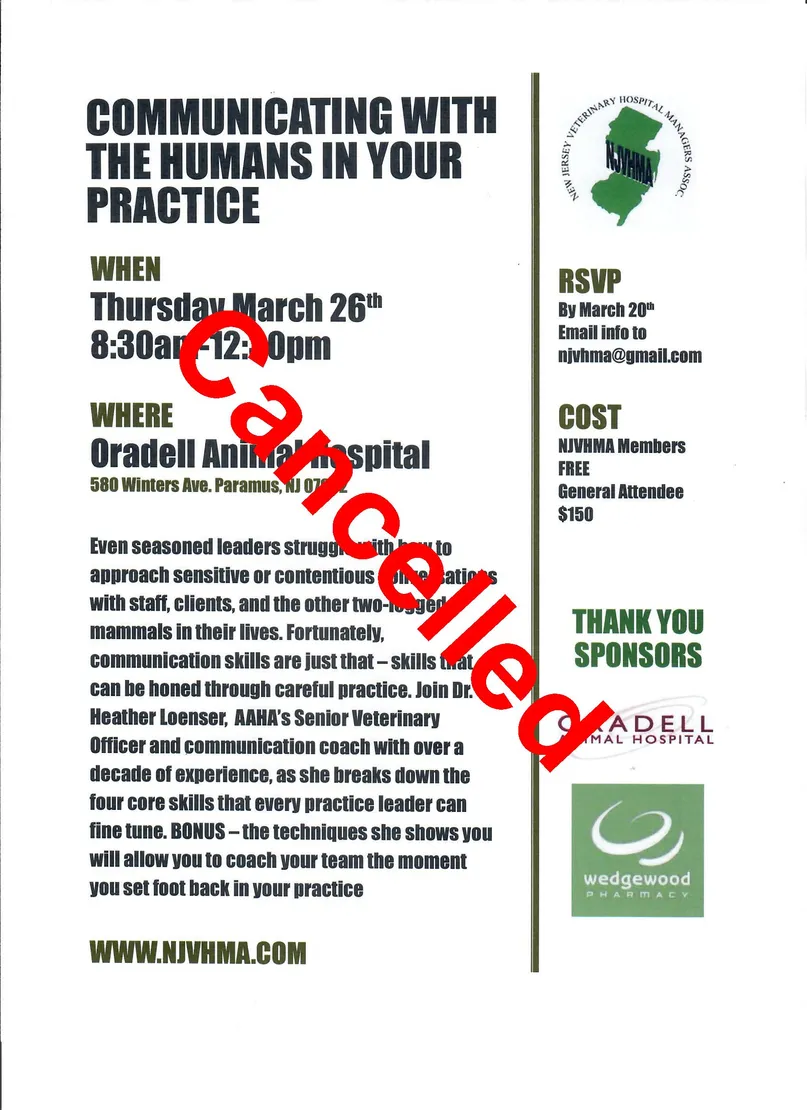 Free for members, non-members 150.00. Contact www.njvhma.com form more information.
---
RBVH Parking for Meeting.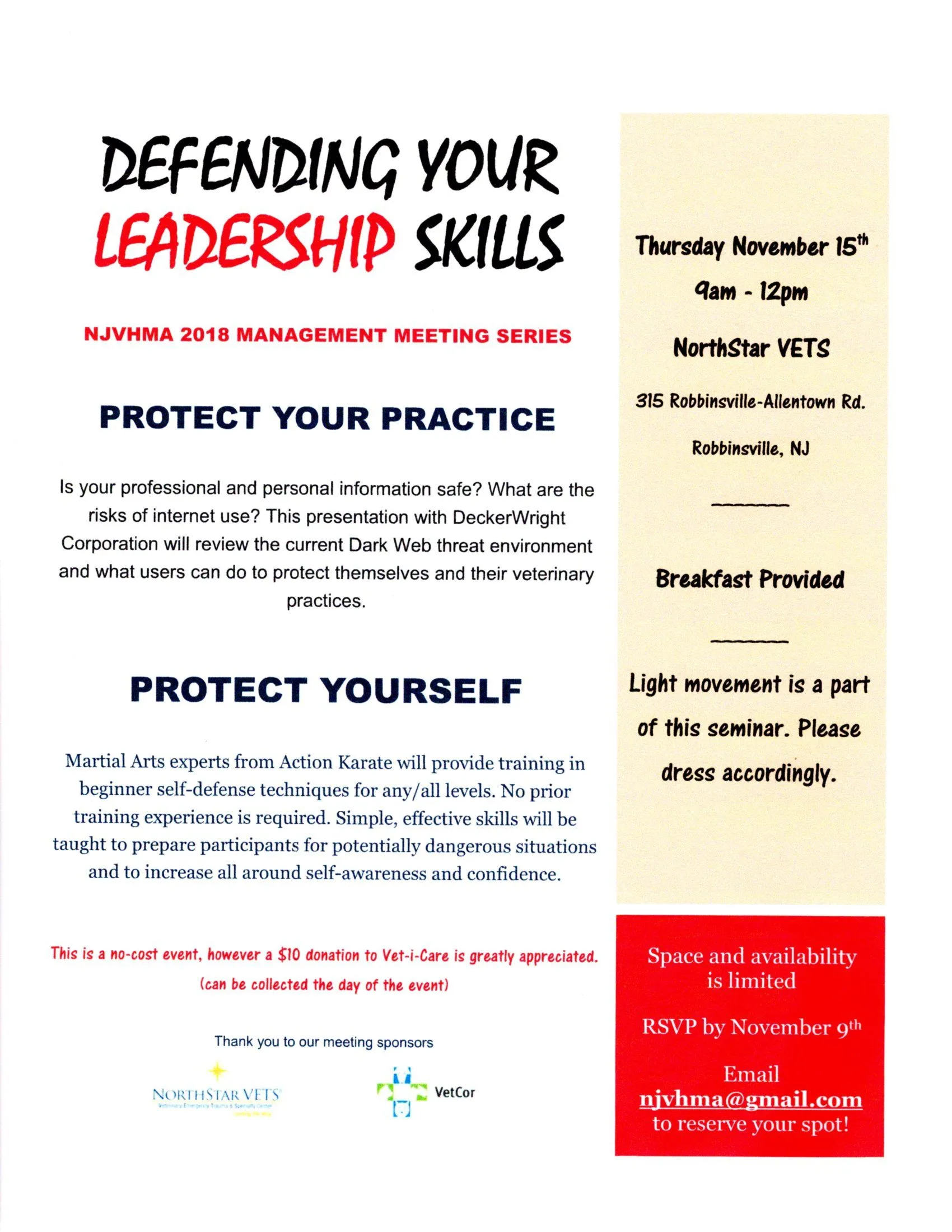 ---
Posted Aug 28, 2018
Come Join us for a full day of fun and education.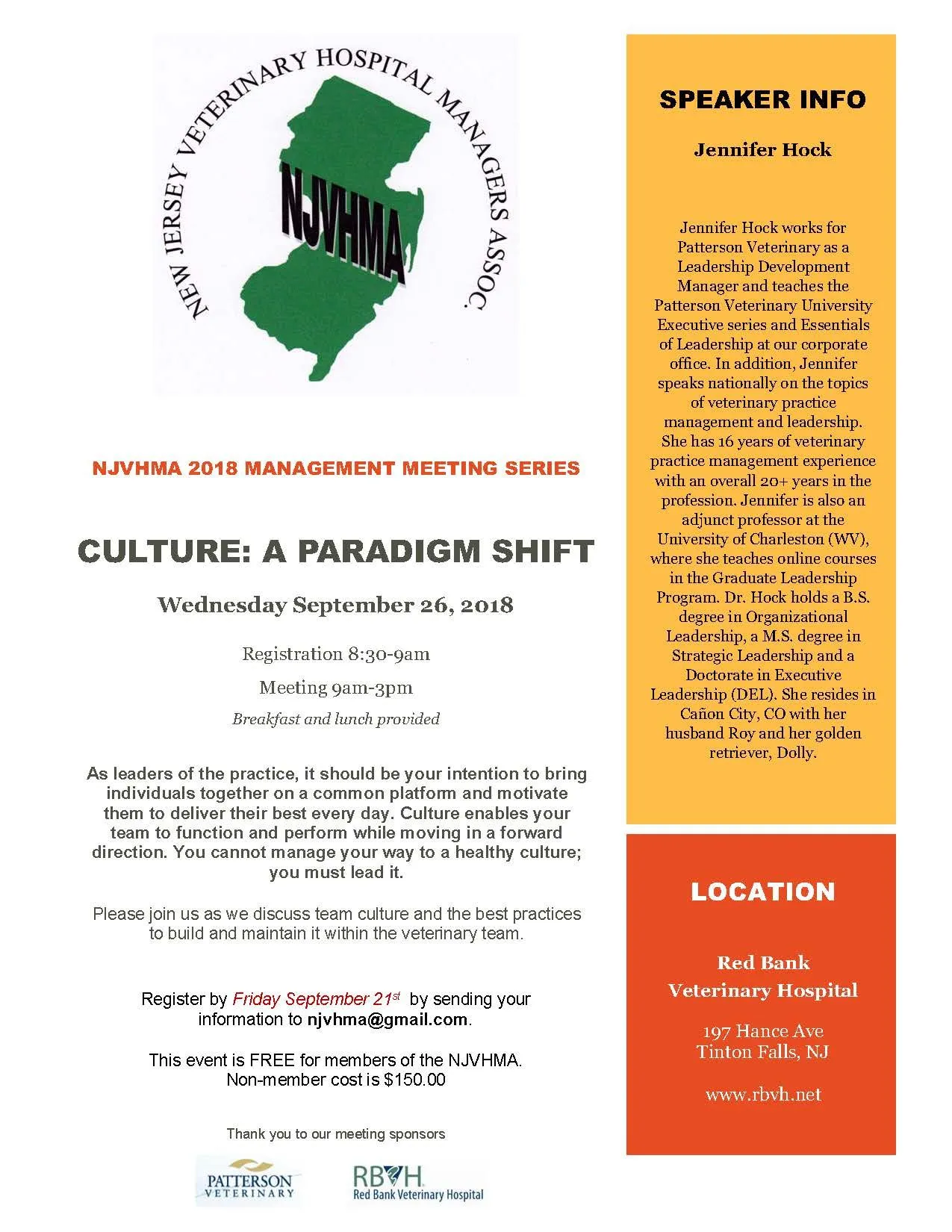 ---
Parking for RBVH Meeting. Please only park in RBVH Parking.
---
Posted May 1, 2018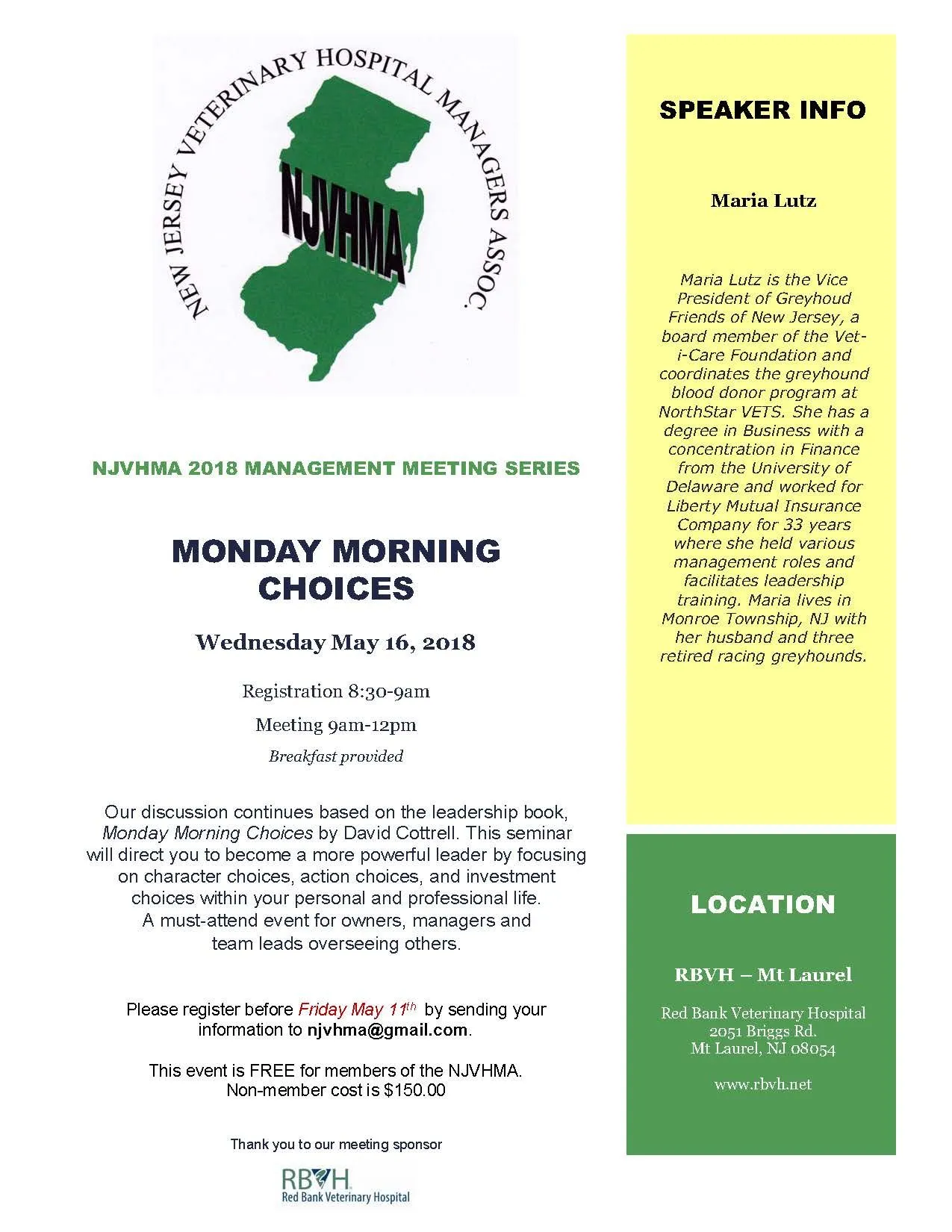 ---
---
Posted March 23, 2018
NJVHMA Meeting with Maria Lutz
---
Posted Aug 28, 2017
Leading Your Culture: Thursday Sept 21, 2017 Speaker Mary Ann Vande Linde, DVM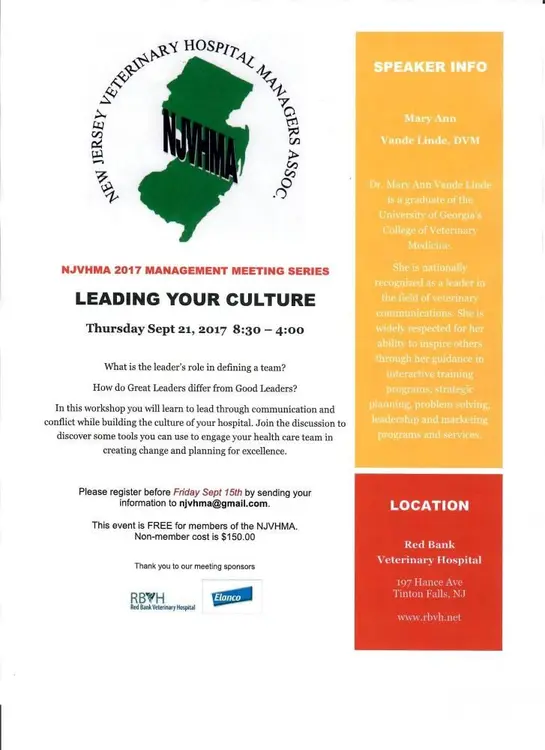 ---
Posted May 22, 2017
One week to go and we have a few seat left. Sign up now.
** DEFENDING YOUR LEADERSHIP SKILLS **
Join the NJVHMA for a morning of leadership skill-building and martial arts self-defense instruction with Action Karate.
This is a first-come, no-cost event. Space is limited**
$10 donation per attendee to Vet-i-Care is greatly appreciated.
Thank you to our sponsors NorthStar VETS and VetCor.
email njvhma@gmail.com to reserve your spot!
---
Posted April 12, 2017
---
Posted Jan 18, 2017
Link to sign up for non-members click here.
---
Posted Oct 21, 2016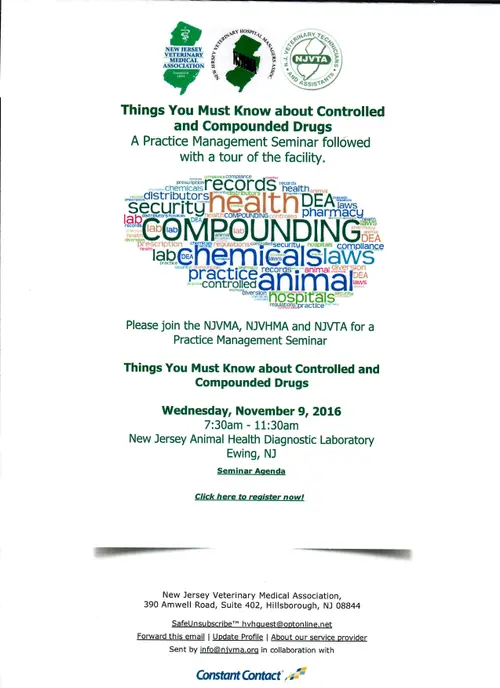 Agenda info click here.
Sign up for meeting click here.
---
Posted Aug 29, 2016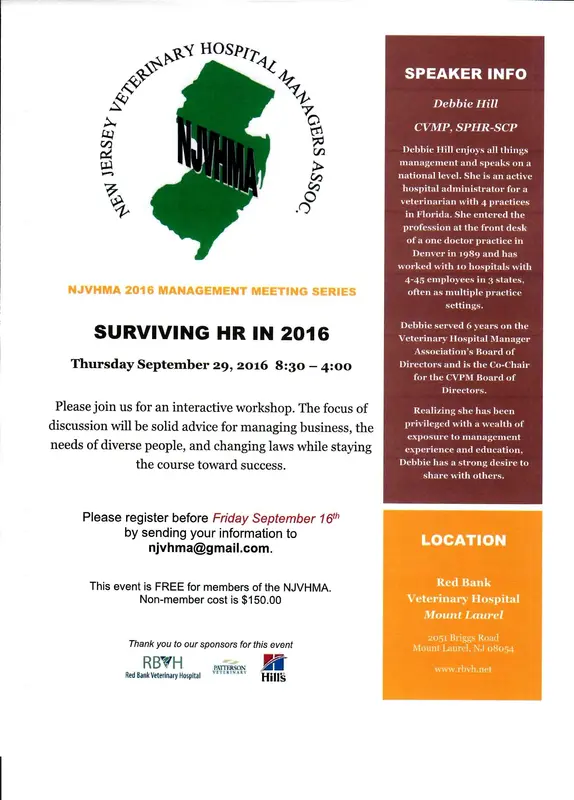 ---
Posted May 2, 2016
Don't miss out on this meeting! Sign up for it now! Link to register: http://njvma.org/events/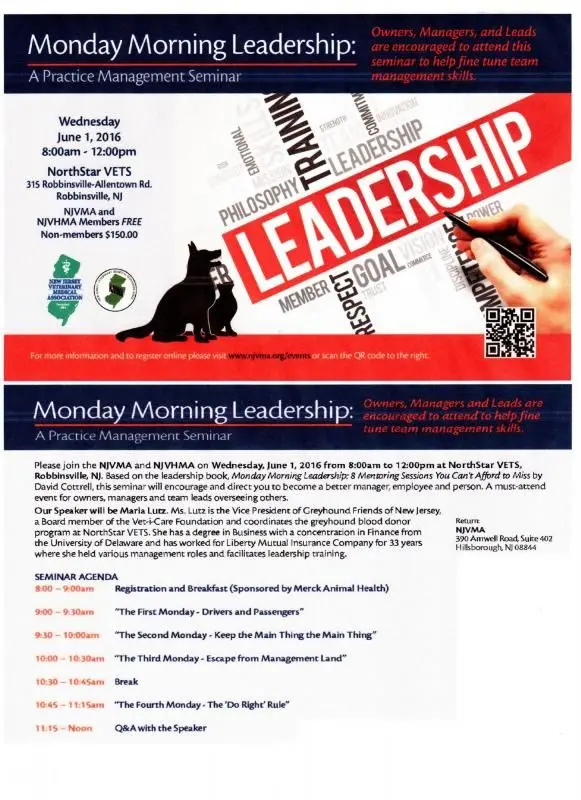 ---
Posted Feb 16, 2016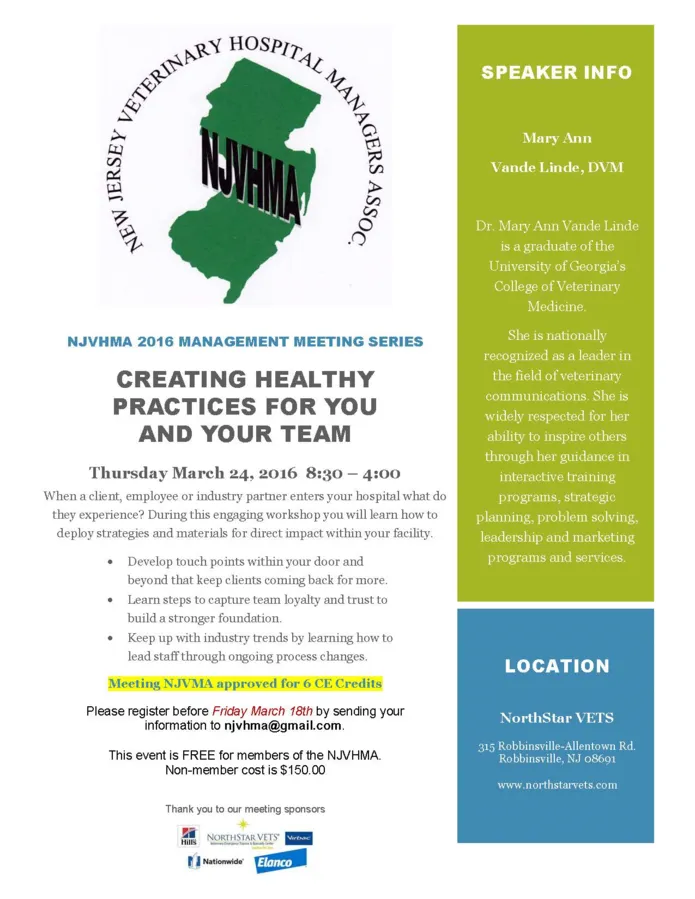 Non-member can register by clicking here.