---
Feb 27, 2023:
---
Sept 12, 2022: To register for ACVC/DVM360 use this code.
---
Oct 6, 2020:

Our good friend and board member of
the New Jersey Veterinary Hospital Managers Association, Eileen has
dedicated her life to helping families and pets. Anyone who knows Eileen
knows that she has the biggest heart and is the most selfless person. As
a director of Vet-I-Care (a non-profit charity committed to helping
families secure grants to provide life saving specialty and emergency
care for their pets) Eileen has worked tirelessly to help save the lives
of pets in need and has kept countless families together as a result.
Eileen organized many fundraisers to secure more money to help people
and pets. Her dedication has helped so many families who did not have
enough money to pay for life-saving surgeries and care for their pets,
it is our turn to help her!

Eileen was diagnosed with Angiosarcoma in
January of 2019. She has had to go through strenuous surgeries and
treatments, and is unable to work. Terribly high medical bills have
created much hardship, day to day necessities like groceries have become
a challenge for Eileen. Any monetary support you can provide will go a
long way for a person who has been so self-sacrificing. Anything you
can do to help is deeply, deeply appreciated. Every donation goes
towards helping a woman who has devoted her life and love to helping
pets and families.


Sincerely,
The NJVHMA Board of Directors
Click on Link
---
June 15, 2020:
Webinar offered to all member of NJVHMA.
---
January 2020 Posting: Click on image form more information.
---
January 2020 Posting.
Click in image from more information.
---
Posted April 10, 2019
---
Posted March 1, 2019:
---
Posted Jan 18, 2019
NJVMA Veterinary Education Conference March 8-10, 2019
Click on photo to open page.
---
Oct 5, 2018 Posting
Last meeting of the year.
---
http://www.firstchoicemarketing.us/Posted May 11, 2017
The Path to High Potential.
Louise Dunn Presenter.
Two day seminar for veterinary practice managers and owners. Seating limited. RSVP now!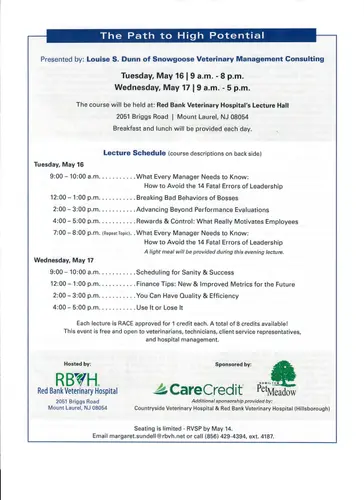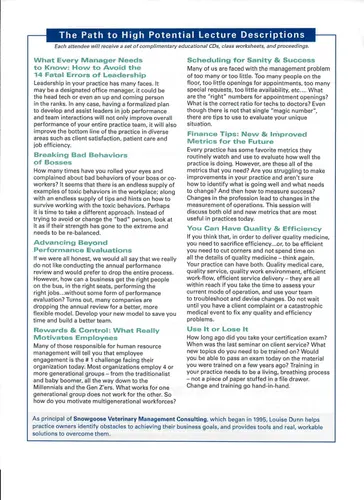 ---
Posted Jan 20, 2016
The NJVMA Annual Meeting features excellent Continuing Education (CE) in a relaxed, collegial atmosphere. The meeting will be held at the Wyndham Hamilton Park Hotel & Conference Center, Florham Park, NJ
Registration is open for the NJVMA 132nd Annual Meeting. The program offers 10 hours of CE (5 hours/day) featuring renowned speakers covering companion animal tracks, technician tracks and practice management topics.
NJVHMA has pushed for more management and HR programs at this venue. We are pleased that we have had a great response to our request. Saturday March 12, 2016 Ms. Denise Tumblin – Wutchiett Tumblin & Associates will be lecturing all day on Tip and Tricks to increase revenue. Sunday March 13, 2016 Ms. Julie Squires – Rekindle, LLC will be lecturing on Compassion Fatigue. Both lectures should be a great meeting. We need you to help us continue to get more topic speakers and topics at this venue. If you can't make both days, sign up for one day meeting. You won't be disappointed.

Full Veterinarian and Technician/Office Staff Registration includes: breakfast, lunch, dinner & entertainment on March 12th as well as breakfast and the 21st Annual Animal Hall of Fame luncheon on March 13th. Join us at the President's Reception on Friday, March 11th and the ever popular NJVF Silent Auction and cocktail reception on Saturday, March 12th!
Link for registration: Click here.
Practice Management for Saturday March 12, 2016, Sunday March 13, 2016.
---
Posted Sept 12, 2015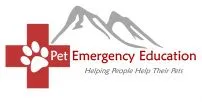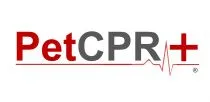 ---
Canine and Feline CPR and First Aid Certification Class
Saturday September 26, 2015
4-7pm
Zoom Room
980 Shrewsbury Ave
Tinton Falls, NJ

According to the American Animal Hospital Association (AAHA) 1-out-of-4 more pets would survive a medical emergency, if just one first aid technique was applied prior to getting emergency veterinary care

*This class will certify the participant in Canine and Feline CPR and First Aid*
The skills and topics covered in this course include:
Safety when working with sick and/or injured animals
Restraint and transportation of injured animals
Handling common medical emergencies
Choking in dogs and cats
Cardiopulmonary Resuscitation in dogs and cats.
For more information click
here
.
---
Posted Sept 2, 2015
A must-attend Social Vetworking event for hospital team members managing other people - RSVP online at www.northstarvets.com/socialve...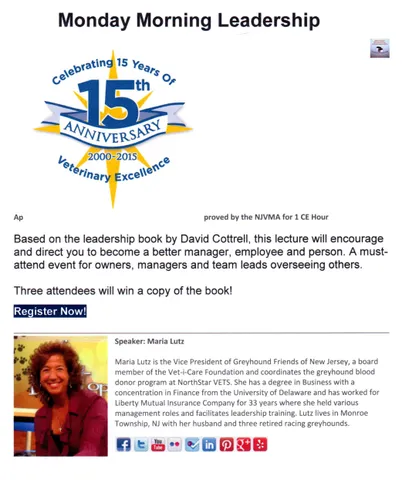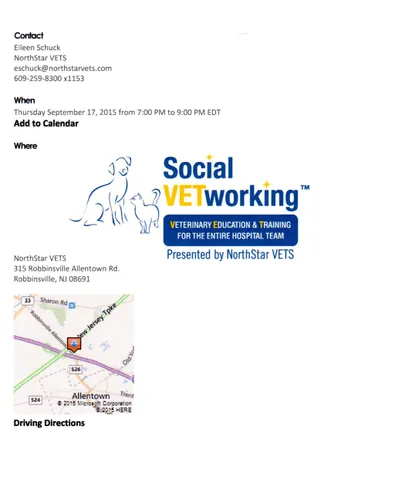 ---
Posted June 24, 2015
Contact information:
La Piazza Ristorante 11 Church St. Allentown, NJ 08501
RSVP: Eschuck@northstavets.com
Call 609-259-8300 x 1153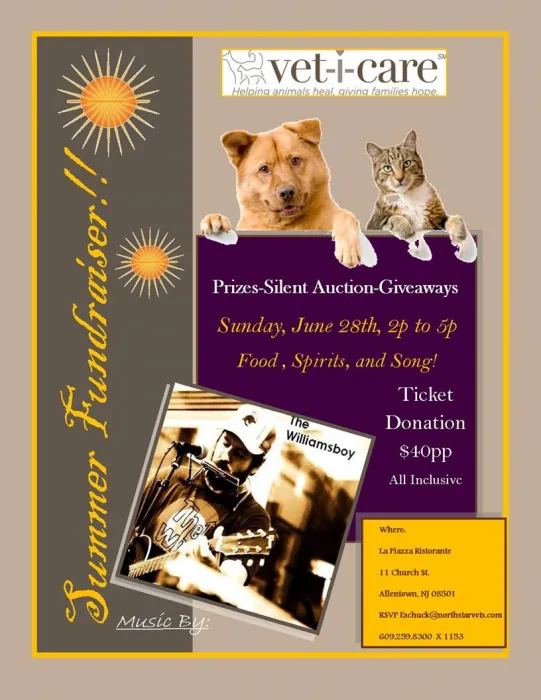 Posted: June 19, 2015
---

Meetings and Events of Interest
NJVTA Invitation
WE INVITE ALL VETERINARIANS & TECHNICIANS TO REGISTER NOW FOR 3 DAYS OF EXCITING CE EVENTS!
10th Annual Hambletonian CE Wet Labs
Wednesday, August 5th
Meadowlands Racetrack, E. Rutherford, New Jersey
8:00 AM - 5:00 PM
Eight total CE credit hours available. $400 for one half-day session (4 CE credit hours) and $700 for two half-day sessions (8 CE credit hours total). Includes complimentary luncheon and transportation from our host hotel, the Hilton Meadowlands. Participation is limited;
REGISTER HERE ASAP to lock in your place.
CLICK HERE FOR THE 2015 CE WET LABS AGENDA
CLICK HERE FOR THE 2015 CE SEMINAR AGENDA
Posted June 15, 2015
2015 Patterson Veterinary University Program:
This program is designed for managers or those who oversee management duties. The four management classes will enhance managerial skills, leadership and confi dence. Participants receive knowledge and tools that will have an immediate impact on practice performance. August 12-13, 2015 Human Resources September 16-17, 2015 Inventory and OSHA October 7-8, 2015 Marketing November 4-5, 2015 Finance.
More information click on http://bit.ly/1Go2b5h